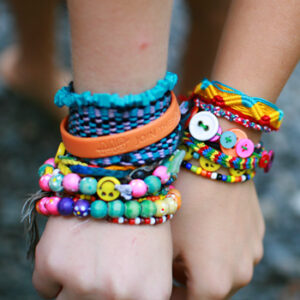 Making friendship bracelets was a huge part of my childhood. My grandma taught me how to do a very basic diagonal stripe pattern and I was hooked. My mom purchased a book for me that I used for years to copy out of and learn from. Eventually I decided to just go with the flow and create original pieces, from really skinny simple bracelets, to really wide and overly complicated ones.
However more complicated the pattern can become, it isn't any more difficult to make than the simplest looking bracelet--it's the same exact technique for each one. It just takes more time to complete.
All you need are embroidery threads you can find at craft and fabric stores, a pair of scissors, and your toes. What? Toes? Yes, if you create a bracelet with a loop at the start (instead of making a knot at the end of your string, fold the string in half to create a loop when you make a knot--just make the string twice as long), then you can wrap the loop around your toe to work on your bracelet, instead of having to rely on the bracelet to keep from slipping from taping it to a tabletop. Creating a loop also makes it easier to tie to your wrist once the bracelet is completed.
To learn how to create these patterns, I recommend purchasing a Klutz Friendship Bracelet Kit to get started. It has easy to follow step-by-step tutorials for each pattern, one of which is the tutorial above. The only suggestion I make on top of this particular tutorial is to pull the string to the right, not to the left as the tutorial seems to suggest in the pictures. Pulling to the left here would mess up your pattern and threads!
Making friendship bracelets is so worth the effort and time put in, especially when gifting them to your friends and family. Enjoy and have at it!