I thought I would share the awesome technique of glass etching. It sounds much harder than it truly is. Plus, etched mirrors make excellent gifts for friends and loved ones.
Materials:
glassware (mirror, wine glass, jewelry, etc.)

dark-colored sharpie
gloves

etching cream
water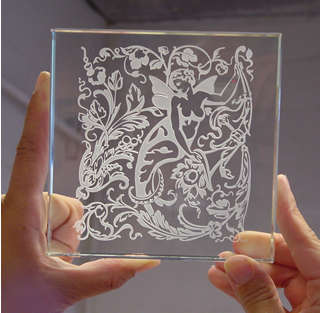 First things first, you must decide what type of glassware to use. It could be a mirror, a wine glass, a photo frame, jewelry, etc. The possibilities are almost endless! If it's glass, you can use it.
With the glassware picked out, it's time to come up with a design. You can draw the idea or using stencils is also fine. It's totally up to you.
Next, trace the desired design onto a piece of blank copy paper so you can have a reference.
For the next part there are multiple methods. For instance,
this one
. I will, however, be explaining the easiest method in terms of time and materials.
Using a dark-colored sharpie (black is best), transfer your design to your glassware. The lines you ink represent the areas that will remain clear and wherever you don't put ink represent the areas that will be etched (frosted). Be sure to go over your lines more than once to ensure it's dark enough.
Keep in mind that the more dimensional your surface, i.e. a wine glass, the harder it is to accurately transfer a complicated design or picture. Thus, I would recommend doing simpler designs for such surfaces. Otherwise, it is entirely up to you to make it intricate or not.
Next, apply etching cream (available at your local craft store, perhaps even in spray form instead of cream) to your glassware. Be sure to wear gloves! The cream is incredibly acidic! Let it sit for 20-30 minutes.
Lastly, remove excess etching cream with water and viola!
Written by Lizzie